The certificate is fully valid to get the mar point, but as you can see the sample pic added has only 46 min. You need to complete the whole course and then get the certificate. Cursa is a famous platform, and the certificate is provided through that platform.
We have provided 20 Mar points through the quiz and those certificates were valid from the Govt., To watch the article Click here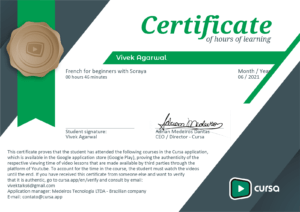 According to the latest Mar tally, 6 Mar point is awarded to the Foreign language certificates.

Share the article with your college mates
Cursa app Details:
This application brings together several video lessons totally free so that users can learn in a practical and quick way on various subjects.
Moreover, after attending all classes of the course it is possible to issue a certificate of conclusion.
It also automatically saves your progress on courses, allowing you to continue studying from where you left off, whether in video lessons or text courses, provides activities for you to test your knowledge and you can also use study reminders to create your own routine.
Currently, the Courses for free application offers courses in the following areas:
BASIC STUDIES
– Algebra
– Grammar
– Physics
– Biology
– History
– Economics
– Logical reasoning
– Literature
– Sociology
– Geography
– Calculus
– Statistics
– Chemistry
– Geometry
– Trigonometry
– Philosophy
INFORMATION TECHNOLOGY
– Web development
– App development
– Basic informatics
– Database
– Multiplatform programming
– IT tools
– Game development
– Office pack
– Networks and infrastructure
– Software testing
– Artificial Intelligence
LANGUAGES
– English
– French
– Spanish
– Japanese
– Chinese / mandarin
– German
– Russian
– Italian
– English
– Polish
CAREER OPORTUNITIES
– Marketing
– Electrician
– Journalism
– Mechanical
– Culinary
– Sewing
– Car maintenance
– Woodworking
BUSINESS AND MANAGEMENT
– Management
– Entrepreneurship
– Human resources
– Investments
– Corporate finances
– Purchasing management
HEALTH
– Nutrition
– First aid
– Anatomy and Physiology
– Physical education
– Psychology
– Physiotherapy
INSTRUMENTS AND VOCAL
– Guitar
– Piano
– Electric guitar
– Drums
– Violin
– Bass
– Flute
– Saxophone
– Sing
ART and DESIGN
– Image editing
– Drawing and Painting
– UX User experience
OTHERS
– Magic and Hypnosis
– Photography
– Youtuber
– Esthetics
– Games
– Massage
– Astrology
– Sports
– Astronomy
– Politics
– Theater
– Robotics
The free courses work as a learning content organizer because it brings together the best courses available on internet and organizes them into categories and subcategories, also allowing you to save your favorite courses in a specific area.
You can now sign up for free in the application to save all the progress and history of the courses being carried out, ie even if you uninstall and reinstall our application, your history and certificates are still there.
You can also use the night mode for a better view of the courses at night.
For those who like to read, our application offers text courses, which means that they can now study in two different ways, either with video courses or with text courses. One more thing, don't worry if you can't read the course at once, the app automatically records which part of the text course you left, plus you can issue the course certificate read and use the zoom function to view it.
The system is also available to be accessed by the computer through the address https://cursa.app/en .