Government exams for ECE Engineer
ECE (Electronics and Communication Engineering) is a branch of engineering that deals with the study of electronic systems, communication systems, and related technologies. It involves the design, development, and maintenance of electronic equipment used in various industries such as telecommunication, computer hardware, and consumer electronics. The curriculum typically covers topics such as electronic circuits, digital systems, communication systems, microelectronics, and computer networks. ECE graduates are typically employed in various industries such as telecommunications, networking, semiconductor, and electronics.
For ECE (Electronics and Communication Engineering) graduates, there are several government exams that they can appear for:
Indian Engineering Services (IES) exam conducted by the Union Public Service Commission (UPSC).

Indian Railway Services of Engineers (IRSE) exam conducted by the Indian Railways.

Central Power Engineering Service (CPES) exam conducted by the Power Grid Corporation of India Limited.

Bharat Electronics Limited (BEL) and Bharat Heavy Electricals Limited (BHEL) recruit ECE engineers through their own recruitment process.

Staff Selection Commission (SSC) exams such as Junior Engineer (JE) also have ECE related positions.
These are some of the major government exams that ECE graduates can appear for. Please note that eligibility criteria and selection process may vary for each exam.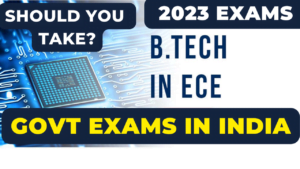 ECE Engineers have great scope in govt as well as in private sector, in recent years ECE is offering jobs in some sectors that are growing very fast like IT and Telecom sector. Almost all PSU's offer jobs to ECE graduates. I hope you know about the PSU (Public Sector Undertaking). PSU's are the companies where govt of India is a major stakeholder.
On completing the ECE Engineering, you can certainly apply for PSU jobs. Each PSU sector conducts a separate entrance exam for recruitment. You would either have to check their official websites or leading employment dailies to find out about the exams and their date.
To be eligible for the exam, candidate has to meet some requirements:
1. Candidate should be a Indian citizen
2. B.Tech degree in any stream from a recognized university with atleast 60% marks.
3. The age of the candidate for PSU Exam is less than 30 years.
Now depending on your performance in the entrance exam which consist Written Test & Interview, you would get the job. You can apply to as many PSU sectors as you want. However avoid applying for more than one at a time as it would be difficult to prepare for two exams.
In recent years, some PSU's have replaced the written exam with the GATE exam score. Therefore it is necessary that you appear for the GATE entrance exam whether you are interested to do M.Tech or not. Several PSU companies give huge importance to GATE score and would exempt the candidate from appearing in written test if performed extremely well in GATE.
The lists of PSU where you can apply for job are:
MTNL

BSNL

BHEL

ISRO

GAIL

NALCO

DRDO

NTPC

BEL

Indian Railways

HPCL

ONGC

HA

SAI

IOCL
The other option for you is Indian Engineering Exam. This exam is conducted by the Union Public Service Commission on the behalf of Central Govt.
Indian Railway Service of Engineers.

Indian Ordance Factories Services.

Indian Defence Service of Engineers (Civil Engineering Posts).

Central Engineering Service.
Indian Engineering Exam is the only other option for engineering students for govt jobs apart from the PSU to appear for Indian Engineering Exam, you must need to meet this eligibility criteria:
Eligibility criteria:
1. Candidate should be an Indian.
2. Candidate should have B.Tech degree in Mechanical, Civil, Electrical or Electronics and Communication Engineering.
3. The age limit for candidate should be between 21 years to 30 years.