About DGE
The Directorate General of Employment (DGE) is a department under the Ministry of Labour and Employment in India. It is responsible for formulating and implementing national policies and programs for the promotion and development of employment opportunities in the country.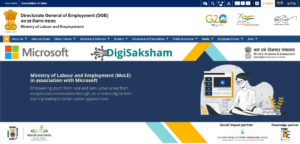 The main objective of the DGE is to generate employment opportunities, promote skill development and enhance employability, and provide support services to job seekers and employers.
Join our Telegram channel: Click here
The DGE is also responsible for managing the National Career Service (NCS) portal, which is a one-stop platform for job seekers, employers, and career counselors. The NCS portal provides a wide range of services such as job matching, career counseling, skill assessment, and training programs. It also provides information on various government schemes related to employment and skill development.
The DGE has a network of employment exchanges across the country that provide employment assistance and job placement services to job seekers. It also conducts various training programs and vocational courses to enhance the skills of the workforce and make them more employable.
Check out: IIT Delhi launching Paid Summer Internships and Free Certificates 2023
Join our Telegram channel: Click here
Highlights:
For the following roles, eligible SC/ST job seekers are welcome to apply:
Particular Coaching
O-level software training for a year
Training in 'O' Level Computer Hardware Maintenance (CHM)
Office automation, publishing, and accounting assistant
Associate for Business Accounting and Computer Applications
Eligibility requirements:
Applicants with a 10+2 diploma may be qualified for this program.
Candidates whose household income is less than or equivalent to 3 lacs may be eligible for this course.
The applicant should be between the ages of 18 and 30 as of July 1, 2023.
Benefits: 
Free books and stationery are given to the contestant
Each chosen candidate receives a stipend of Rs. 1k each month.
Each chosen candidate receives a salary of Rs. 2500 per month.
Join our Telegram channel: Click here
Important notes:
To demonstrate their eligibility for vocational training at NCSC-DAS, candidates must visit the Center on any working day with a disability certificate, a photo ID, and other supporting evidence.
The Center will make a recommendation for a suitable training sector after evaluating the residual talents of people with disabilities (PwDs). Candidates would only be presented with one trade. The length of the training will depend on the kind and degree of the handicap.
Check out: Investment Management with Python and Machine Learning Certification