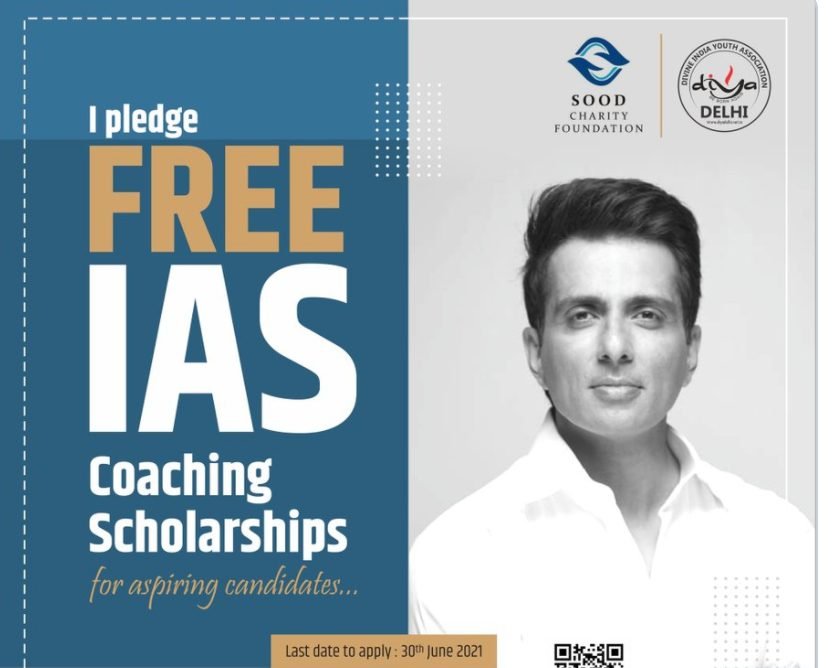 Applications are invited for the Sonu Sood Free IAS Coaching Scholarship.
About the Scholarship
Sood Charity Foundation in collaboration with Divine India Youth Association (DIYA), Delhi Chapter presents "SAMBHAVAM", a unique program for aspirants of Civil Services. A one of it's kind initiative to provide quality coaching facility to needy aspirants at top civil services institutes of India.
Highlights of the Program
Free coaching classes to deserving students (Online/Offline).
Mentorship support from UPSC selected candidates, interview appeared candidates and top educators.
Special group sessions for Personality Development by leading educators and trainers.
Instructions for Candidates
You can fill the form in Hindi or English.
This form is a key part of Admission Process. Incomplete or false information will make your candidature null and void.
Candidates will be selected based on financial criteria, merit and vulnerability.
They will be asked to produce their academic and income credentials/documents at a later stage.
In all matters relating to admission, the decision of the SAMBHAVAM Team will be final and binding on the applicants. No correspondence will be entertained from the applicant regarding his/her non-selection.
How to Apply?
Interested candidates can apply for the Sonu Sood Free IAS Coaching Scholarship through this link.
Application Deadline
June 30, 2021
Thanks for reading 
Comment are appreciated below