OFF-CAMPUS DRIVE 2023
An off-campus drive is an event where a company visits a college or university to recruit students for various job positions. The purpose of an off-campus drive is to provide students with job opportunities outside their campus and to help the company identify and attract talented individuals for its workforce.
During an off-campus drive, the company usually conducts a series of recruitment processes, such as preliminary screenings, group discussions, technical tests, and personal interviews. Students who are interested in the job can attend the drive and participate in the selection process.
Off-campus drives can be beneficial for both students and companies. Students get the opportunity to meet potential employers and apply for jobs, while companies can reach a large pool of potential candidates and fill their job vacancies efficiently.
Check out: Societe Generale Launched Software Engineer opportunities 2023
Details
"Where there is a will, there is a way"!
At Unstop, we believe in creating a pathway for students from any college or background, to reach their dream companies. If you're looking for an awesome company culture along with an awesome package, we've got something for you! 
Presenting 'Unstop Recruitables 2023' – Second edition of the Biggest Off-Campus Hiring Drive for a variety of roles across some of the most renowned companies like Bajaj Allianz, UltraTech Cement, Car Wale, Tiger Analytics, and many more!
MORE UPDATES:- http://bit.ly/Telegrplinkvivek
How do I participate?
It's quite simple just like the competitions you take part in – 
Register and complete your application form (Will take max. 5 minutes).

Take the assessments relevant to your chosen field.
General Aptitude & Logical Reasoning (MCQ Test)
Unstop Gamified Assessment 
Competitive Online Coding Assessment 
Details & guidelines of the assessment will be shared with the registered candidates well in advance.

The candidates who have opted for technical roles will have to attempt all three assessments, whereas candidates who have opted for non-technical roles have to only appear for the first two assessments (MCQ Test & Gamified Assessment).

Based on the candidates' scores companies will shortlist them for their job profiles and conduct interviews. It will be a rolling process where companies can send an interview invite anytime post the assessment. 

All assessments have to be completed in one sitting i.e. When a particular assessment is started candidates need to complete that in one go. However, there can be gaps between all 3 assessments. 
Eligibility: Unstop Recruitables 2023 is open to college students across all domains & working professionals alike.
Check out: Engineering Graduate Trainee at QAD 2023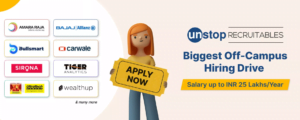 There are many categories of jobs from marketing to web development.
MORE UPDATES:- http://bit.ly/Telegrplinkvivek
Check out: Test Automation Engineer at Verizon 2023