Recruitment for the post of Jr. Engineer, Jr. Clerk(LDC), and Sanitary Inspector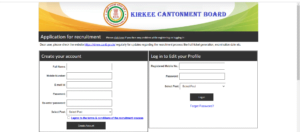 LAST DATE OF SUBMISSION OF ONLINE APPLICATION : 23 MAY 2021
The Examination fee of Rs.100/- should be paid at the time of submitting the online
application for this recruitment
                             Number of Post
Salary:
Junior Clerk: S-6 ₹ 19900 -₹ 63200.
Junior Engineer (Civil): Level S-15 ₹ 41800 -₹ 132300.
Sanitary Inspector: Level S-8 ₹ 25500-₹ 81100.
GENERAL INFORMATION
a) The number of vacancies advertised is only approximate and is liable for modification
including reduction with reference to vacancy position at any time before finalization of
selection.
b) No conveyance, TA/DA or any other allowance will be paid for appearing for the Written test/
Skill test
c) Candidates already serving in any recognized institution, autonomous body or Central/State
Government undertaking should apply through proper channel.
d) The above posts are on a permanent basis and the probation period will be as per rules. The CEO
reserves the right to accept/reject any or all the applications without assigning any reasons
thereof.
e) If the applicant wishes to apply for more than one post, a separate application for each post
should be made through online mode.
f) Applications and fee payment received through offline mode will be summarily rejected
and the candidates are advised to apply only online.
MODE OF PAYMENT OF EXAMINATION FEE:-
a) Examination fee Rs.100/- (Rupees One hundred only) is payable only through online mode
using Net Banking/credit card/Debit card.
PROCESS OF SELECTION:-
Name of the Post Skill Test Written Test
1 Junior Clerk Yes
2 Sanitary Inspector Yes
3 Junior Engineer Yes
* The skill test is only qualifying in nature. The marks obtained in the skill test by the applicants
who are declared qualified for admission to the written examination will not be counted for
determining their final order of merit. There will be no interview for any of the above mentioned
posts.
The questions for the written test will be set only in English and the questions will be of
Objective/Descriptive type. There are no negative marks for wrong answers.
For determining ranks of such candidates who have secured equal marks, the age of candidates
whose marks are equal will be considered for assigning ranks