Scholarship for first-year engineering students, from all over India anyone can apply for this scholarship. Mainly focused on wbjee aspirants and students of West Bengal. As per 2020/2021, these scholarships are available for now
The 8 Scholarships for the first-year students are listed below and to apply the links are also provided. These scholarships are government-funded and getting selected for any of them will fetch you a good amount of money every year and hence it will turn to help many students get their studies to carry out easily.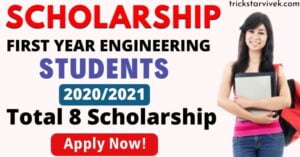 Not only the minorities but also general candidates can apply for a few of them
There are many scholarships and I listed only 8 of them, these 8 are famous scholarships and anyone with a good passing percentage in 12th can apply for these scholarships. First-year candidates can only apply for these scholarships.
WBJEE is an exam conducted in West Bengal for getting admission in Engineering colleges of West Bengal, famous colleges are Jadavpur University, IEM or Institute of engineering and management, Heritage institute of technology, and many more.
You belong to a government college or a private college you are eligible for these scholarships.
This is for the information of all newly admitted 1st Year students that the list of some important scholarships
provided by Government agencies is mentioned below. The interested students may go through the given
website links and apply as per the eligibility criteria of the mentioned scholarships to avail the benefit.
The Scholarships are :
Details about every scholarship will;l be provided soon.