It is one of the most sought-after and lucrative professional profiles in the world today. A Software Engineer job at virtually every reputable IT business provides you with these things, whether we're talking about larger pay packages, professional advancement chances, a collaborative work atmosphere, wonderful bonuses, or any other connected feature!
The need for and job possibilities for software engineers are predicted to increase by 20–25% in the upcoming years, according to a few reliable studies.
Join our Telegram channel: Click here
Check out: Engineering Graduate Trainee at QAD 2023
About Societe Generale
With more than 117,000 employees working in 66 countries, Societe Generale, one of Europe's top financial services organizations and a significant economic force for more than 150 years, provides daily assistance for 25 million clients.
In order to expand its company abroad, our Group leans on its European heritage. We can connect Europe and Africa with significant global financial hubs in Asia and the Americas because of our advantageous geographic location.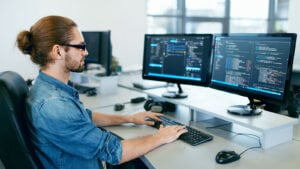 Image from theladders.com
With the goal of generating value for all of our stakeholders, the Group combines financial strength, innovative competence that has been shown, and a sustainable growth plan.
We aspire to be a dependable partner in the initiatives of people who are creating the world of tomorrow today.
Join our Telegram channel: Click here
About Software Engineer at Societe Generale
We firmly believe that people are the agents of change and that all of their endeavors, no matter how modest or audacious, will have an impact on the world of tomorrow.
We can change the future together, whether you join us for a few months, a few years, or your whole career. Our DNA is wired for creation, audacity, innovation, and action.
You will feel completely at home with us if you wish to be personally involved, develop in a supportive and dynamic atmosphere, feel helpful every day, and expand or deepen your knowledge.
We are delighted to be an equal-opportunity employer and dedicated to fostering a diverse workplace. All competent candidates are given equal consideration for employment without regard to their country of origin, race, color, religion, gender, gender identity or expression, sexual orientation, handicap, age, or status as a veteran.
Join our Telegram channel: Click here
Responsibilities:
This position involves working on the creation of technologies for international transaction and payment services. The need is for a developer who can oversee the whole development process for a product, provide value to end users and work closely with the feature team model.
Eligibility Criteria: 
Level of experience: 0 to 2 years.
Developer having a track record of successfully implementing solutions utilizing Java & J2EE technologies and SOA architecture.
Employing more recent versions of Angular or React for front-end development.
Craftsmanship attitude – on automation, CI-CD, automation, TDD, and BDD.
Familiarity with the Agile/Scrum framework
Mastery of Docker, Kubernetes, RabbitMQ, and the Rest API
Exposure to monitoring tools such as SONAR, Maven, ELK Stack, Kibana, and Jenkins.
The ideal candidate will be quick to learn and possess strong analytical abilities.
Check out: Employing Software Engineers at Epsilon 2023