The batch of 2024, here is an exclusive opportunity for you!
Google is hiring Step interns in the offices of Bangalore and Hyderabad. Opportunity is mainly for Female candidates (but Males can apply too).
Minimum qualifications:
Currently in the second year of study, enrolled in a Bachelor's program, majoring or intending to major in Computer Science or related technical field.
Experience in one or more general-purpose programming languages.
Preferred qualifications:
Currently enrolled in a full-time degree program and returning to the program after the completion of the internship
Excellent programming skills (C++, Java, Python).
Ability to complete a full-time, 10-12 week internship between May and August 2021 (exact program dates will be provided at a later point in the process).
About the job
Google aspires to be an organization that reflects the globally diverse audience that our search engine and tools serve. We believe that in addition to hiring the best talent, a diversity of perspectives, ideas and cultures leads to the creation of better products and services.
Google is invested in increasing the number of future computer scientists and software developers, particularly those who are historically underrepresented in the field. Many aspiring computer scientists could benefit from a program that bridges the gap between academic study and a professional internship. Google aims to inspire these students to continue in the field with such a program.
This program is committed to addressing diversity in our company and in the technology industry. Students who are a member of a group that is historically underrepresented in the technology industry are encouraged to apply.
This summer trainee program includes:
Software Project: A development project that you will work on with a team of Googlers and other STEP Interns.
Skills-Based Training: Enhance your coding skills, and gain exposure to new tools and programming languages.
Professional Development: Attend ongoing technical talks by senior Googlers. Additionally, learn how to enhance your resume, approach technical interviews, and improve your presentation skills.
Mentorship: Be matched with a Google Engineer, other than your manager, to guide you through your summer experience.
Fun: Engage in social activities, community building, and networking. Build relationships with your peers.
Exposure: Gain a unique glimpse into applying your Computer Science studies in a professional environment.
Our Summer internship starts in May/June 2022 and is 10-12 weeks in duration.
Google is an engineering company at heart. We hire people with a broad set of technical skills who are ready to take on some of technology's greatest challenges and make an impact on users around the world. At Google, engineers not only revolutionize search, they routinely work on scalability and storage solutions, large-scale applications, and entirely new platforms for developers around the world. From Google Ads to Chrome, Android to YouTube, social to local, Google engineers are changing the world one technological achievement after another.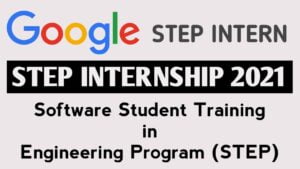 Responsibilities
Specific responsibilities vary by project area.
Locations
By applying to this position you will have an opportunity to share your preferred working location from the following: Bengaluru, Karnataka, India; Hyderabad, Telangana, India.
Watch the tutorial video here