Recently on Forage J.P. Morgan's Cybersecurity Virtual Experience Program is announced. Here you can learn about the basics of Cybersecurity, Application Security Fundamentals, etc. This program is beginner-friendly which means even if you don't know anything about Cybersecurity you can still kick start your career in this field.
To know more about the program read the entire post down below.
Also Read: Google career certificate scholarship program
About J.P. Morgan Cybersecurity Virtual Experience Program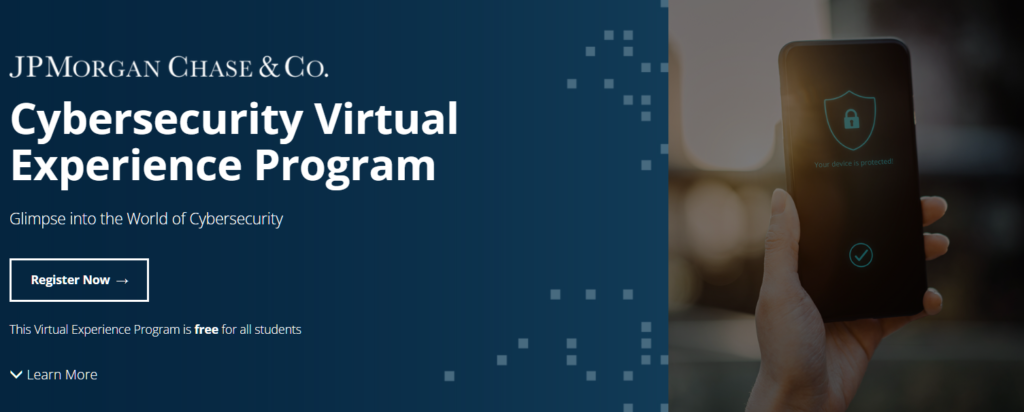 With technology becoming more advanced than ever before, so are ways for hackers to commit fraud. That's why we need cybersecurity professionals to keep everyone, even the world's largest financial firms, safe from fraud.
Think cybersecurity could be your future? We at J.P. Morgan are giving you the chance to get a hold of basic cybersecurity skills so you can figure out if you want to pursue it professionally. See what it's like to work on a cybersecurity team!
Experience for yourself the daily tasks our cybersecurity team faces while keeping our worldwide financial firm protected from hackers and fraud. Learn how our team filters out spam emails and develop a system to tighten Identity and Access Management rules as you complete these tasks firsthand.
Also Read: free mar point certificates
Course Content
Module 1: Analyze A Large Dataset Of Fraud In Financial Payment Services Working with data of security-critical systems.

Practical Skills you will learn: Exploratory Data Analysis, Open Source, Presentation

Module 2: Learn About Application Security Fundamentals and Put It to Use On Your Website Gain awareness of what needs to be secured.

Practical skills you will gain from working on this task: Application Security Hygiene, Web Application Development

Module 3: Spam or Ham? Build an Email ClassifierFilter out bad emails to protect your colleagues.

Practical skills you will gain from working on this task: Email Security Fundamentals, Text-Based ML Models

Module 4: Design and Develop a System to Tighten Access to Sensitive Information (Bonus Task). Understanding real-world security systems.

Practical skills you will gain from working on this task: Data Structures, Access Control
What will you get?
The ability to take the program completely in your own time and at your own pace.
A foundational knowledge of cybersecurity you can prove with a certificate of completion.
Confidence in knowing if cybersecurity is part of your future career path.
Benefits of Program
Make your CV and LinkedIn stand out: You'll be able to include this experience on your CV and Linkedin profile. Demonstrate that you're ambitious, hardworking, and have developed valuable practical skills.
Discover if this career is for you: Nearly 50% of the hours you are awake are spent at work. Discover if this is the right career path for you.
Be seen by J.P. Morgan: The power is in your hands. Opt in to share your work and profile with the HR team at J.P. Morgan to stand out. Completing this program will put you at the front of the line for review if you apply to one of our summer internships.
Leverage this experience in interviews: Next time you walk into an interview, you'll be job-ready with experience and an understanding of the role.
Set yourself up for success: No more applying for jobs without knowing what the role involves. Build the confidence and practical skills that employers are looking for.
Earn a Certificate: When you complete the Cybersecurity Virtual Experience, you'll earn a personalized completion certificate to share with prospective employers and your professional network.
How to Register for J.P. Morgan Cybersecurity Virtual Experience Program?
To register for it CLICK HERE