Jadavpur University, the Wbjee top college in 2020, 450 + seats are blank and more than 100 to 200 can be the seats blank in 2020.
This gives the chance for the other students to grab this opportunity and get into Jadavpur University. Wbjee is one of the biggest exams of India for getting into the Engineering stream. Jobs day by are getting insecure in the engineering field and students by the day are not as much as it used to be in previous years.
WBJEE VS JEE
Wbjee every year approx. 1 lakh to 1.5 lakhs student sits for the exams due to pandemic of Covid-19 in 2020, less than 80,000 students sat for the exams. Even in JEE, many students did not prefer to give the exams and hence lot of seats get vacant in every college.
JEE EFFECT ON WBJEE
In JEE this year many students did not prefer giving the exams and hence cut-offs went low and a lot of good candidates got good colleges outside. As JU is one of the deemed colleges for engineering only 800 students choose JU as in Counselling and many have not yet pay the fees.
COLLEGE NOTICE
In 2019, 261 seats were blank and empty in JU, as they have 16 Branches and a total of 1253 seats. They said 800 students enrolled for Jadavpur University and it can be seen by calculation approximately 450 seats are still vacant. This is more than the previous year and can be easily be said that decentralized counseling like the previous year will be held this year too.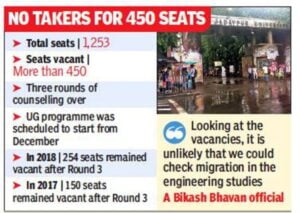 BIKASH BHAVAN REACTION
Bikash Bhavan Official said " Looking at the vacancies, it is unlikely that we could check the migration in engineering studies. Humanities, science, and commerce programs have also good opportunities, and as they move to other streams giving the massive seat crunch.
MY REACTION
What I think is this is a massive opportunity for the students to grab a seat in JU. I know if I could get the same opportunity in my year of admission I would have been very happy. This Year 2020 is not good for anyone but if any middle scorer also gets into JU I think this is something good for him and his family. Believe me or not, Scores in Entrance does not say how he or she will do in this Graduation. Learning and implementing logic are two different things. I think if anyone gets the opportunity he or she should grab it. Subscribe to my youtube channel where I will update all news on time. 
SEATS NEWS AND SPOT ROUND UPDATE
As of now, 450 + seats are vacant. Many more can go vacant in days as per now a lot of students did not clear the fees and 450 seats can not be vacant if they want to fill it in jelet exam too. 450 is a huge number and as per the news Construction, Pharma, Printing, and a Mechanical lot of seats are still not yet filled.
Watch the detail Video out here