What is NPTEL?
NPTEL is a MOOC platform in other words Massive Online Learning Platform organized by IIT Madras. NPTEL has many courses related to engineering, management, mathematics, Computer Science, Physics, and Chemistry, and all the lectures and classes are taught by India's best universities such as ALL IITs/NIT/IISc/IIM, etc.
How valid are the Courses?
The vision of NPTEL is to provide the best classes or lectures to students of engineering and management. Most of the courses of nptel are AICTE approved so it is valid. You should enroll in these classes for learning about the subjects not for the certifications, you can access all the content without registering for the examination.
Certificates being from top IITs/ NITs/ IIMs and courses explained from top professors their results shows an upper hand in the resume and you have a chance to learn from these professors. You can watch the course videos for free but to get certified you must give an examination which costs rs 1000  or more depending on the exam and choose a nearby center and appear for MCQ based easy exam where 40% is required to get certified but if you score more than 60% you are in silver position and if more than 90 % you are in top position. along the way to the choose 30% marks is given to assignments which you can do on Swayam application or its website. Lots of colleges in India and Abroad have tied up with Swayam Nptel and added in the student's chapters to get their students to ease to use the platform and get certification courses and various opportunities to learn and grow their students.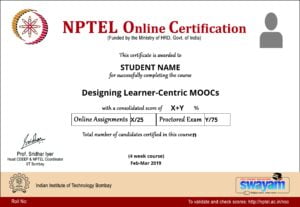 What Are MOOCs and MOOCs Points?
Massive Open Online Courses (MOOCs) are free online courses available for anyone to enroll. MOOCs provide an affordable and flexible way to learn new skills, advance your career and deliver quality educational experiences at scale.
Millions of people around the world use MOOCs to learn for a variety of reasons, including career development, changing careers, college preparations, supplemental learning, lifelong learning, corporate eLearning & training, and more.
MOOCs have dramatically changed the way the world learns.
MOOCs Points: Various universities have different norms for the MOOCs points, and recently lots of universities have allowed a BTech Honours degree as well as some mandatory norms to get certified, or else they might not be allowed to get the final degree. hence, to apply and get certified on a particular course is almost mandatory, you cannot choose any course you want, you have to choose a course listed on the options related to your branch and specified on the university portal. Hence check the site and notice before applying.
The different courses have different points, maximum is allowed to 12 weeks course, and others less than that. For example, My university MAKAUT norms:
All India Council for Technical Education (AICTE) has introduced a Model Curriculum for
Bachelor of Technology program with 160 credits in the entire program of 4 years and
additional 20 credits will be required to be achieved through Massive Open Online Courses
(MOOCs) from different platforms for the degree of Bachelor of Technology with Honours.
These additional 20 credits will have to be acquired with online courses (MOOCs) as per
AICTE. Students of the B Tech program will have to complete additional 20 credits through
MOOCs within 4 years of time. 16 credit points is applicable for 3 year UG programs. This
creates an excellent opportunity for students to acquire the necessary additional skillset for
employability through massive open online courses where the rare expertise of world-famous
experts from academics and industry are available. Maulana Abul Kalam Azad University of
Technology, West Bengal (MAKAUT, WB) has thus decided to introduce the AICTE model
curriculum for its B.Tech Programmes and allow students to choose courses from any
established online platform as per following revised guidelines from the academic year 2020-21.
GUIDELINES FOR MOOCs
MOOCs (Massive Open Online Courses) have been inducted into University curriculum and
academic activities in the following ways:
1. MOOCs for Honours Degree at Undergraduate Level.
2. MOOCs for mandatory Coursework of Research Scholars for Ph.D. degree
3. MOOCs are also used for credit transfer as equivalent to theory courses of
Curriculum under the recommendation of BoS.
4. MOOCs for Mandatory Additional Requirements (MAR)
1 (A) MOOCs for B.Tech Honours Degree
For B.Tech Honours Degree, a B.Tech student will have to earn 20 credits from MOOCs
from any established MOOCs platform in addition to 160 credits for a B.Tech degree.
The total of 20 credits that is required to attain eligibility for a B.Tech Honours degree is
distributed over four years in the following way:
1st year: 4-8 credits
2ndyear: 4-8 credits
3rdyear: 4-8 credits
4thyear: 4 credits
A student of first year has to cover courses from at least three skills:
1. Computer Programing with Python /R
2. Softskill
3. Ethics
Students of all streams are to be equipped with Programming skills in the language that is in
high demand worldwide in the first year itself so that they can apply this skill in the
subsequent semesters in their different areas including their core area of study.
MAULANA ABUL KALAM AZAD UNIVERSITY OF TECHNOLOGY, WEST BENGAL
(Formerly Known as WEST BENGAL UNIVERSITY OF TECHNOLOGY)
Soft skill is very essential for grooming the student and student must be exposed to it in the
very beginning of the 4 year-long programs.
Ethics is something that one should practice. Students are to be made aware of the ethics right
in the beginning of the 4 year-long program so that they can practice at least some of the
ethical norms as applicable to the Institutional environment and society, and be prepared to
practice ethics in their working life.
All of the MOOCs courses are to be taken on any MOOCs platform as per the following
scheme of credit points. There would not be any concept of a fixed basket anymore.
However, during choosing courses in the online platform students would essentially
avoid the courses taught/offered through the curriculum in the offline / classroom
mode.
For NPTEL/Swayam platform: Credit points as specified in the platform
For other MOOCs platforms like Coursera, edX, Udemy, Simplilearn etc
Courses of 4 weeks to 7 weeks: 1 credit point
Courses of 8 weeks to 11 weeks: 2 credit point
Courses of 12 weeks to 15 weeks: 3 credit point
Courses of 16 weeks or more: 4 credit point
Conclusion
It's good and knowledgeable to learn from NPTEL Swayam and get certification but it has a disadvantage as you have physically appeared for the test and it also costs Rs 1000. Whereas platforms like Coursera and others offer Financially aid so that even a student who cannot afford can get the certification. What do you think about Nptel's comment down… Thank you