Hello learners, What does every hiring manager look for in an employee? Set yourself apart from the pack by getting the essential soft skills–abilities that help people interact effectively with others–that employers value most, from communication fundamentals and being a team player to advancing your critical thinking skills. Then today we have 10+ Exclusive Linkedin Learning certification courses for you & your colleagues.
To know more about these Online courses and get free access to the courses, stay connected till the end of this post
About Linkedin Learning Subscription
Linkedin Learning is a modern learning experience that students & employees will use, love, and apply.
Over 13,000 organizations around the world choose LinkedIn Learning because it teaches skills people can use right away.
World-class content, expertly produced with +16,700 courses in 7 languages.
Engaging learner experience with personalized, data-driven recommendations your employees will actually want to use.
Real-time strategic skills insights leveraging data from over 772 million LinkedIn members
BUT BUT, for accessing the LinkedIn learning subscription, you need a paid subscription but don't worry in this post we added some exclusive 100% free LinkedIn learning courses with free certificates. In which you don't need any subscription or you can say Linkedin Learning subscription is free for you..
Minimum System Requirements for LinkedIn Learning
All are welcome to participate in these free courses. These premium courses will provide learners an opportunity to get corporate-grade learning experiences, varying from college students to professionals and adults. College students who are doing any degree or from any college.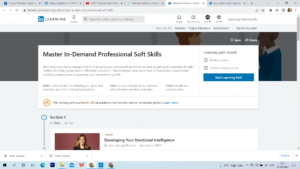 How to Get Linkedin Certification?
Step 1: Open the website, Linkedin Learning
Step 2: Click on the course that you want to enroll
Step 3: If you want to be certified, Complete the course videos.
Step 4: Take assignment after every module
Step 5: After completing the course, Mark on course completion.
Step 6: Enjoy! You're now Linkedin Certified.
Note: All Courses come with a free certificate by Linkedin.
How to Apply for Free Courses?
To Apply for the Linkedin Learning FREE Professional Soft Skills Certification Courses, CLICK HERE